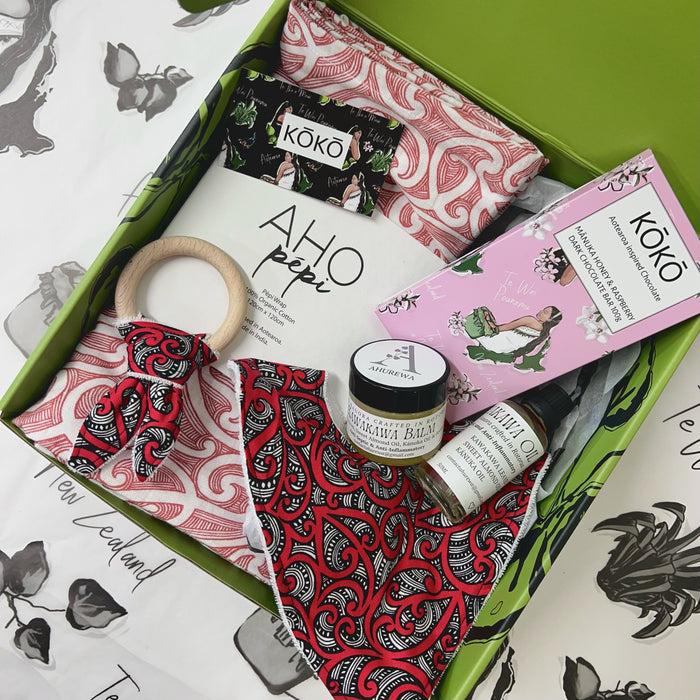 MĀMĀ Gift Box - Whero
Or 6 weekly interest-free payments of $19.83
with
Laybuy
What's this?
The perfect taonga for Māmā + Pēpī, includes an organic cotton wrap, a beautiful body oil that can also be dropped into baby's bath with a kawakawa oil-infused balm, cute bib + teether set topped off with a delicious tiakarete treat!
X1 KŌKŌ bar Manuka + Raspberry dark chocolate 100g
X1 AHO pēpī wrap - Ngā  Hononga Wrap, Whero 
X1 Kawakawa body oil 50ml - Ahurewa
X1 Kawakawa balm 60ml - Ahurewa
X1 Kiwiana Whero bib
X1 Kiwiana Whero teether
Please note that on the rare occasion we run out of your chosen flavour of chocolate we may have to add a substitute bar of equal quality and flavour.
Our KŌKŌ gift boxes have been carefully sourced directly from the designer/producer and packed with aroha right here in Rotorua. These taonga make the perfect gift for all occasions, corporates, Māmā and Pēpī or as a simple thank you <3  
Every gift is sent beautifully packed with a handwritten personal message enclosed (if you wish) throughout Aotearoa.